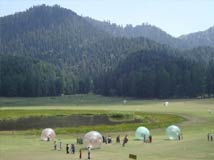 Panjpula:
A Picnic spot and memorial of freedom fighter S. Ajit Singh. 3km.
Dain Kund:
Where the Besa, Ravi and Chenab offer a spectacular view. 10km.
Khajjiar:
World famous beautiful picnic spot known as mini Switzerland. 27km.
Chamba:
Valley of gods, famous for its temples and chaugan. 56km.
Bharmour:
Ancient 84 temples, starting point for manimahesh yatra. 121km.
Bhadrakali Lake:
Developed on Ravi river is a place for water sports. 30km.
Rock Garden:
Summer picnic spot with spring water flowing along hugh rocks. 15km.